Aladdin Runner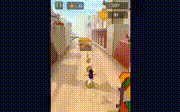 Description
:
Aladdin Runner is a game inspired by the great movie of Disney Aladdin. In this game, you must help Aladdin run through the Arabian streets and avoid countless obstacles by jumping over barrels, avoiding the bustling bazars and watch out for secret police. You can collect coins on the running track to buy new upgrades and costumes for your character. The surprise in this game is that you can jump on a magic carpet and fly through the streets.
• Controls:
AD or left / right arrow: move left or right
W or up arrow: jump
S or down arrow: slide
• Features and characteristics:
There are many obstacles on the way that you must avoid.
Can take magic carpet and fly through the streets.
Complete missions by collecting items and performing other tasks.
Collect lots of coins to upgrade and buy costumes.