Subway Surf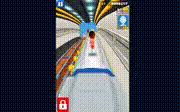 Description
:
Subway Surf is an interesting game on the endless run. Just run and cleverly avoid the obstacles like trains, trams … and especially avoid the pursuit of police to go as far as possible in this endless running game. You need to collect coins to unlock special powers and equipment to help you go further each time.
* Control:
Left / right arrow: Move left / right
Arrow up: Jump
Down arrow: Scroll
Space: Activate hoverboard
* Tips and tricks:
Using hoverboard will protect you from trouble.
To get the Mystery Box you need to collect all the letters in Word Hunt.
To extend the power of Jetpacks, Super Sneakers, Coin Magnets and Multipliers need to unlock upgrades.