Nightmare Runner 2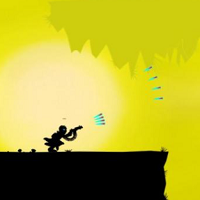 Description
:
Nightmare Run 2 is an endless running game for iPhone designed in the cartoon style of the 1930s. In the game you will Get your machine gun and shoot through hordes of monstrous creatures to escape from this nightmare world. Run for your life again! Enter the journey to run non-stop, avoid obstacles with many different play screen interesting.
How to play
-Aim and jump / double jump with the mouse (Automatically shoot).
-You can also jump with W or UP or SPACE keys.
-P paused the game.