Slope Game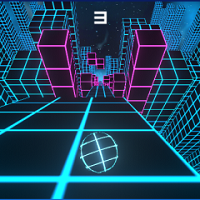 Description
:
Slope Game
Slope Game takes you to the speed of the ball with the dangerous race. The game has friendly interface and simple gameplay that is very much loved by many people.
You will control a 3D ball so that it rolls forward and control it to roll left or right to avoid obstacles such as red lines, deep holes, and other obstacles. Control the ball in the right way, if it falls out then the game will be over.
When participating in the game, you will find it very difficult to get the ball on the right path, but when playing for a while, you get used to the motion that will help you move easier and overcome difficulties to level up
The game offers you to play single mode or mode with friends. In friend mode, you can create a competition with your friends wherever you want. To play with your friends, at the menu select "" play with "friends mode", then you will get a private link and share this link with your friends to play together.
Or you can compete directly with other players from around the world. Compete with them through the scores you receive for long distances. The further you go, the more points you get. If you achieve a high score, you will be enrolled in the global player rankings.
The developer carefully calculates every detail to help you train your reaction flexibility and enough for you to pass all levels.
The levels will be consecutive and let you play seamlessly and try to control the ball in the right way, avoid obstacles on the way and conquer many levels to become the best player in this game.
Fast-paced game will bring joy and excitement to the player, entertaining and reducing stress after a long day of studying and working.
How to play Slope Game
Slope Game uses a combination of arrow keys to get the best moves. Use UP ARROW KEY to move ball, left and right arrow keys to control ball to left or right.