Running Fred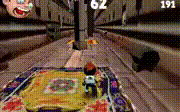 Description
:
Running Fred is a fun and interesting endless-running game developed by Dedalord studio. This game has unique graphics, suitable for all ages. You can experience this game on your browser because it is a flash game.
How to play Running Fred?
– Use left arrow key to move to the left,
– Use right arrow key to move to the right
– Space to jump / double jump. Try to run as far as you can.