Basketball Legends Halloween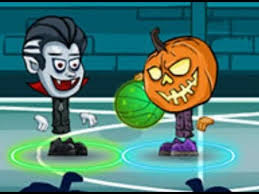 Description
:
Basketball Legends Halloween
Basketball Legends Halloween helps you play basketball with a lot of people or with your real friends. The characters in the game are designed based on the exciting atmosphere of Halloween, the characters are both scary and cute, like vampires (Dracula), Frankenstein, ghosts, witches, mummified corpses, lions, pumpkin … Your task in this game is to score as many goals in the opponent's basket as possible to win each match.
The odds you have between the two teams will determine which team wins, so try to score multiple goals from the opponent's basket. The person who scores the most points will be listed on the player's leaderboard.
Before starting the match, you can choose a player, choose an opponent, choose a double or single-player mode … along with detailed options on it. You can easily understand and play excellently with this game along with fast, powerful movements and an appropriate viewing position to throw the ball into the basket.
Players can move flexibly on the football field, forward, backward, jump, rob the ball or perform super speedball phase. Flexible use of the available abilities of the character to help his character hit the ball into the basket as accurately and quickly as possible.
Each player will make alternating throws, anyone in the throwing position will receive a greater advantage but will also throw the ball exactly into the basket and will not allow the remaining players to rob the ball. The theft is made when either of you uses your arm to attack the opponent, causing the opponent to be stunned.
If you score the ball in the basket, your opponent will cry and vice versa once you get a goal, you will burst into tears.
The famous online game will give you an enjoyable, relaxing time and you can also play with friends or play with computers, Android, iOS devices and you can also share the results of the match. with other people or your friends on social networks.
In addition to playing on the internet will assist you to download devices to play whenever you want, even without an online connection. This has been beneficial for all players and the game is for everyone.
How to play Basketball Legends Halloween
Basketball Legends Halloween will use the arrow keys to control, X to act and Z to get the super speed arrow to pump the ball to the first player. For player 2 using the WASD keys for player movement, K to get a great speed, L for action.
With simple gameplay but requires agility and flexibility, the game will give players interesting experiences.