Basketball Legends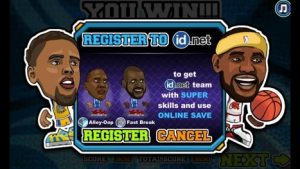 Description
:
Basketball Legends
Basketball Legends will give you a basketball game experience when you don't have time to play basketball on the field.
Your team may consist of one or more individuals, your task is still to burn as many balls into the opponent's basket to pass their score and win. Each match needs to reach a certain score and the team with the higher score will win that team.
You can choose your basketball team with any character you want, choose the character that you will compete with, choose the game mode and participate in the battle.
Play fast matches, tournaments or play with your friends in two-player mode, unlock all achievements and enroll your team on the leaderboards related to teams, where teams have the highest score to be named.
You can move, steal the opponent's ball, run around the field and make classic throws into the opponent's basket to win. Make quick and precise movements not to miss any of the scoring opportunities. Each player makes an alternating pitch, whoever throws the ball will have an advantage, but you should be careful because you can throw a basketball and take your chance to the opponent. At the same time, everyone can jump the ball quickly by grasping or hitting, making others dizzy and making beautiful moves of your own.
After scoring the ball into the basket, you will get an extra point and your opponent will burst into tears of grief and so will you if you score. The score gap can greatly help you win and continue playing against other teams.
The game is completely free and compatible with most Android devices, iOS, computers. When you play the game with a recorded account, you can play the next level while on another widget through the ability to synchronize.
This is one of the favorite games in the online game world. This game has many different variations, allowing us to play 4 players at the same time.
You can play it online or download it to play if you download it then when you play the game, the game is saved and once you open it to play again, you can continue where you left off to go.
How to play Basketball Legends
Basketball Legends is very simple for any player to play and win, using the arrow keys (or W, A, D, S to move), X (or L) to Action, Z (or K) to Supershot.
Play and enjoy the fun that the game brings, make sure you will enjoy this game. If you feel like it, you can join it regularly and share it with your friends. Wish you have a relaxing time.