Dead Zed 3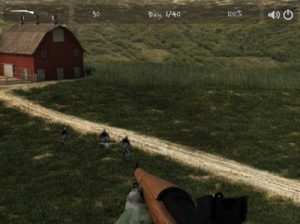 Description
:
Dead Zed 3
Dead Zed 3 is a shooting game aimed at zombies. This is a flash action game, where you will protect your base from the onslaught of zombies.
While waiting for reinforcements, you will fight zombies for 4 days in a row by the means you have with its upgrades.
Zombie army classes appear, with large numbers and many different types of zombies, walking zombies, zombies capable of leaping to the side, zombies running fast … The number of zombies will become more and more crowded and stronger. so many, so much. The bloodline indicates the health status of zombies on each zombie's head. When you hit this bar of blood will be depleted and hit more as it will more quickly die.
You will use guns to destroy zombies and use the money earned to buy upgrades, superpower upgrades, drones along with a lot of other upgrades. The more modern the upgrades, the more zombies kill. The esper upgrades are only used a certain number of times and it works very well. Purchase upgrades and use them sensibly to deliver the best results for you.
To shoot zombies, you need to adjust the shooting position so that the barrel of the gun pointed at him and pulled the trigger to kill. The number of bullets in each load is limited, when used up you need a bit of time to reload.
The game has a fast-paced, strong rhythm and the onslaught of zombie classes to pressure the player but surely you will easily overcome.
Many people have loved the game because it helps them release stress well and quickly regains positive emotions.
How to play Dead Zed 3
Dead Zed 3 uses the mouse to buy upgrades and adjust the sight and shoot guns. It would help if you aimed very accurately, flexibly using weapon upgrades as well as superpowers to destroy the zombie army.
You can mute the sound or pause the battle while playing.