Fall Ball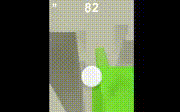 Description
:
Fall Ball is a challenging and exciting endless platform game in which you have to try to guide a ball through a variety of different platforms. You have to jump from platform to platform and prevent the ball from falling or you have to restart the level.
As you progress through the levels, you can find speed boosts that can push you farther, but beware because there are red walls that you can hit to control the ball. Should be more difficult.
How to play: Hold left mouse button to steer the ball.