Learn To Fly 3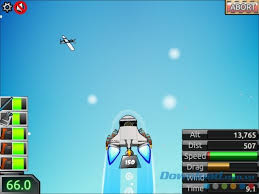 Description
:
Learn To Fly 3
Learn To Fly 3 is the sequel to the learns to fly game – training penguins to practice flying. In this part, the penguin still learns to fly to prove to everyone that the penguin can fly. Build the necessary equipment to help penguins fly into space, avoid obstacles on the way and earn vast amounts of money.
First, you will learn how to fly by standing on a higher ridge and running to operate down, when starting the training you will only walk apiece, you get a bonus. Use this money to buy upgrades to build aircraft, helping you fly farther. For a small amount, you will purchase minor upgrades, then when you make more money, you will upgrade more things.
You can change the angle of your penguin. Collect money by flying longer and faster. Buy wings, buy slides, buy boosters, hit snowmen to earn extra money. You have to practice hard every day, go up the slope and launch your penguin down the ramp to practice flying and travelling long distances in the air. The more upgrades you buy, the longer you will go, make more money and buy upgrades.
This section offers many game modes for players to choose, including story mode, payload mode and classic mode. The most difficult is the Payload mode, which requires the player to bring any objects into the universe; each playing style has its own interesting and attractive points that players cannot ignore.
With hard training, day by day, it is inevitable that penguins will fly very far.
How to play Learn To Fly 3
Learn To Fly 3 is played using the arrow keys or AD to change the angle of your penguin. Use the arrow keys to change the angle of your penguin, leaning forward to move faster and backward to increase height. Press Space to use boosters.