Papas Freezeria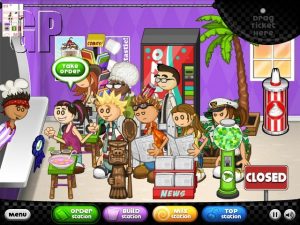 Description
:
Papa's Freezeria
Papa's Freezeria is a game in which you are responsible for the store, will carefully follow the needs of customers to make delicious food for your customers. Your store is on the coast of a large island with lots of visitors.
You will start with the store to offer and receive orders from customers, list customer requirements and follow them to create the items that meet their needs. Pay attention to everything and visit the construction station to start building a sundae. In the store, there are some unique ingredients to form different drinks and include Sunda colours before serving them to your customers. You want to make sure that the parts are quick and accurate to create the required things quickly before giving them to the customer.
There are lots of components you can be confused with but don't worry because of your customers just like what they need, take a closer look at the requirements and follow them.
When the index reaches the green zone of the watch, press the button, it is the right time to find the highest quality dishes. Please see opportunities to get ready for the ideal food.
After getting the right ingredients, combine everything and check the mixer clock. The blend is complete, and you will decorate different delicacies. There are many ingredients that you create unique and beautifully decorated types with lots of fruit or other items. Beauty will attract more customers.
When you finish the requests and desserts for your customers, they will tell you their feelings. If you adhere to customer needs, customers will be delighted and complimented, if you make a mistake, then produce a lousy drink or dessert, then the customer will complain and have a bad review. Reduce the reputation of the store, and then fewer customers will come to your store when you collapse. Keep your customers happy to make more money, and more customers will come.
Daily customers will take different orders, give you a lot of sales and you will unlock new parts. Works well to make as much money and open as many upgrades as the store will have more customers and your store will expand.
This game will be more challenging when there is more than one customer at the same time, but with your agility, it will undoubtedly be useful.
The game is entirely free and exciting, compatible with most Android and IOS devices and has been played by a lot of players.

How to play Papa's Freezeria

Papa's Freezeria will bring players many exciting experiences and exciting entertainment moments. Left-click on ingredients to make custom-made items and provide them to customers, buying upgrades.