Tank Trouble 2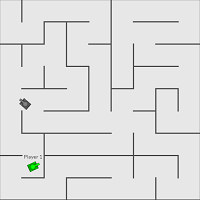 Description
:
Tank trouble 2
Tank Trouble 2 players will control their tanks to destroy enemies and become the last survivors. This sequel has improved graphics, tanks, mazes that are designed to be big and easy to see.
You can play against the machine or play with up to three other players. To play with other players, you need to sit with your friend in front of the computer and play. When you play against the computer, you just need to select the car driver and participate in the game at any time.
Simple but highly addictive game, there are now many people playing this game.
Drive your car around the maze, shoot bullets from the cannon to bounce on opponents or dissipate in the air, fighting for victory.
Bullets that do not kill any tank will not explode immediately and hit the wall and continue moving until they hit a target that is a friend or enemy, then the tank is hit. will explode to pieces. If it does not meet the target then it will disappear after impact for a while.
Your enemy has the same ability as you, moving flexibly, shooting bullets at you. Therefore, you need to move flexibly in the maze while avoiding bullets from other players or your own.
The items appearing in the maze help players get more powerful, many different items that players can collect are rockets, laser guns, protective film. You and the enemy have the same ability to collect and use weapons.
How to play Tank trouble 2
To participate in the game, players need to choose the most appropriate control, including the following controls:
Use the arrow keys on the keyboard to control the movement of the tank and use the space bar to fire bullets.
Use mouse to move and left click to shoot.
Use the WASD and Q keys to fire the cannon.
Choose one of the controls when playing in machine mode or other players to participate in this fun game.