Papa Louie 2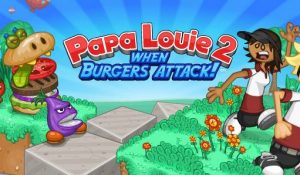 Description
:
Papa Louie 2
Papa Louie 2 is the sequel to the thrilling adventure game, where you will be the character to rescue your customers from the captivity of monsters.
Choose a character, name and see a brief introduction to what happened to know what you need to do. Through the opening you know you are selling pizza in a store and have a lot of customers when an individual comes and drags you and your customers to the whirlpool and a whole new place. You will have to find a way to explore the forest and search for captured customers.
You will fight monsters to find your customers. You have to fight independently of them but are encouraged from the beginning to be kitchen utensils to win against the monsters and the creatures in it, and you also can move fast, jump, slide on the road. Slope and step on the little monsters.
You will start looking for clues of monsters in a deserted forest with many creatures and with flexible and agile movement, you can move and collect all gold coins along the way to Increase the score, use equipped weapons to kill monsters along the way.
From the forest, there are many traps and monsters arranged in different locations to be able to destroy you, creatures of different shapes, creatures that can move or stand still and have good weapons. is not. The terrain uses a difficult journey, you have to move very flexibly to overcome all the monsters and traps. Those things will make you lose the red hearts that symbolize your health. However, on the way, you will find such hearts to help you accumulate and restore health.
When you complete the path, you save your customers, you will access another level and continue to perform other challenges and obstacles. There are many levels, each with its enemies and traps. Pass all levels to conquer the game in the shortest time to become the best player.
You can play online or download and play anytime from this adventure game, completely free and compatible with most computer devices, Android, iOS.
How to play Papa Louie 2
Papa Louie 2 brings you lots of fun and challenges that will help you relax with easy gameplay. The controls of the game are as follows: Arrow keys down the wall to sit down or jump down. Left and right arrow keys to move right and left. Spacebar to use weapons.
Certainly, the game will bring you a lot of emotions, entertaining you after a hard working day, and if you like this game, you recommend it to others to play with. Wish you will have moments of interesting gaming.